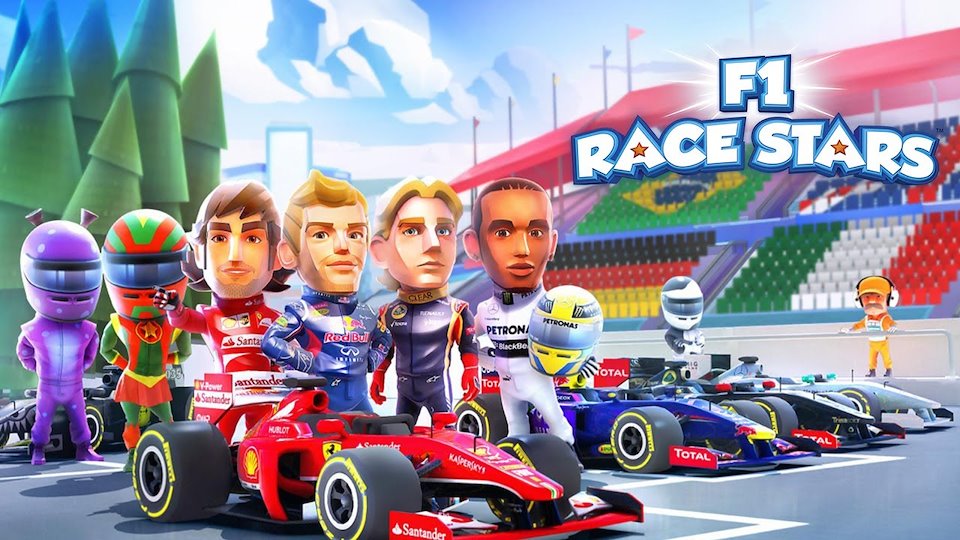 F1 Race Stars Mobile (2014)
Project Role:
Level Designer
Responsibilities Include:
⚬ Starting from scratch using feedback gathered from the console release of F1 Race Stars, the game was redesigned heavily for iOS. Responsible for designing, white-boxing, iterating and taking to release 10 brand new levels using as many existing art assets from the console version as possible. 2 Abu Dhabi, 2 Canada, 2 Germany, 2 Italy and 2 Singapore levels. Including all gameplay elements for game modes and events utilising in-house EGO visual scripting editor.

⚬ Iterative changes and balancing of gameplay and levels
⚬ Worked closely with art team and monitored art passes on all levels under my responsibility
⚬ Creating design documents and maintaining internal wiki for levels under my responsibility
⚬ Creating and maintaining achievements using iTunes Connect
⚬ Pre-production concepts for all circuit designs
Game Description:
#1 Racing Game in 130 countries, with 5 million downloads to date
POWERSLIDE YOUR WAY TO VICTORY IN F1 RACE STARS™ – GET READY FOR FAST AND FUN FORMULA ONE™ RACING!
Use power-ups, hit jumps, powerslide around corners and speed through shortcuts as you jostle for position with the cast of F1 RACE STARS! Featuring multiplayer racing, incredible visuals and amazing tracks from across the world, F1 RACE STARS brings console quality arcade racing to your iPhone, iPad or iPod!
F1 RACE STARS is completely free to play. However, some game items can also be purchased for real money. These items are optional and not required to play the game. You can turn off the ability to purchase these items by disabling in-app purchasing in your device's settings.
Key Features:
⚬ ACTION-PACKED TRACKS!
Race 40 incredible circuits from 15 unique locations representing real FORMULA ONE GRAND PRIX™ circuits from around the globe! Powerslide around tight and twisty Monaco, speed along a dragon's back in China or tear up the baseball field in the USA and more!

⚬ AMAZING VISUALS
Powered by Codemasters' award-winning EGO Game Technology Platform, F1 RACE STARS' super-smart graphics technology includes dynamic weather effects, full screen post-processing effects and loads more clever stuff to basically make it look amazing!
⚬ RACE THE STARS
Features all the cars, teams and drivers from the 2013 FIA FORMULA ONE WORLD CHAMPIONSHIP™ – can you beat Sebastian Vettel, Lewis Hamilton, Fernando Alonso and the rest of the gang?
⚬ FANTASY DRIVERS
Play as your favourite star or choose from a huge selection of fantasy drivers with their own special abilities – including Robot, Ninja, Wizard, Secret Agent and many more.
⚬ GET POWERED-UP!
Use awesome power-ups scattered around each track – release homing bubbles to trap your rivals, call in wet weather to slow down the opposition or take shortcuts to sneak to the front of the pack!
⚬ COLLECT AND COMBINE PERKS
Discover hundreds of perks to boost your character's skills – unlock and combine perks to improve your performance on the track and choose the perfect mix for your racing style!
⚬ SOCIAL FUN AND MULTIPLAYER MAYHEM
Unlock over 50 achievements with Game Center, share your progress through Facebook and join the fun against your friends in local multiplayer games via WiFi and Bluetooth.
⚬ TILT AND TOUCH CONTROLS
Use tilt or on-screen controls for left and right handed players as you sprint for the chequered flag.