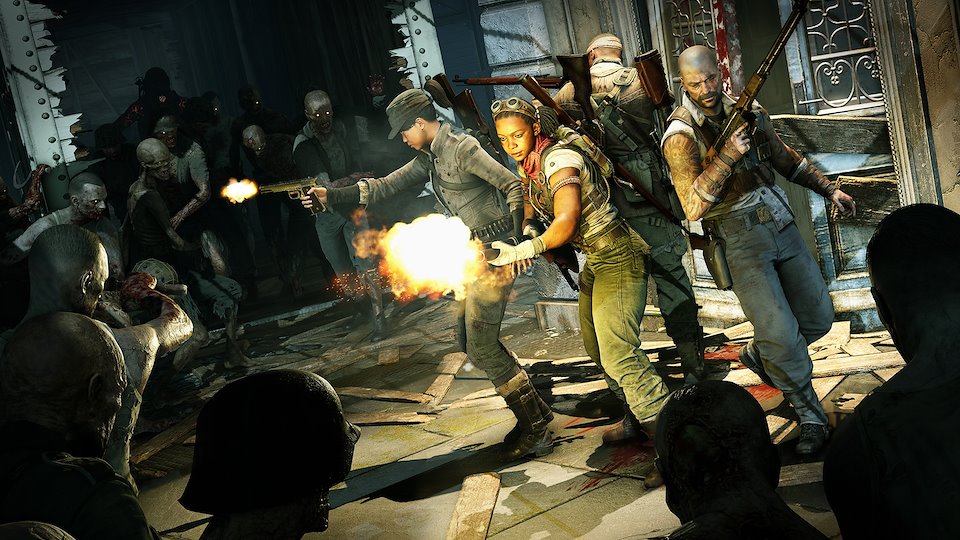 Zombie Army 4: Dead War (2020)
Project Role:
Lead Level Designer
Responsibilities Include:
⚬ Creating and maintaining the Level Design creative vision and direction for multiple Single Player Campaign and Multiplayer levels

⚬ Leading an extremely talented team of 21 Level Designers across Oxford, Runcorn and Warwick studios
⚬ Prototyping and testing game mechanics in test levels and providing feedback to Code Team and Gameplay Designers before they are ready to be implemented by Level Designers
⚬ Meeting regularly with Production, department Leads and company Directors to ensure department, project and company goals are met and schedules are on-track
⚬ Planning, scheduling and prioritising realistic and achievable workloads for Level Design team members, milestones and deliverables
⚬ Supervised development of all levels through initial planning, whitebox, feature implementation, iteration stages and art pipeline to release
⚬ Interviewing and hiring new Level Designers
⚬ Documenting Level Design guidelines, feature designs, tools processes and mechanic implementations for reference
⚬ Ensuring Level Design relevant documentation and working practices are kept up-to-date
⚬ Providing feedback to Level Designers on design, direction, gameplay and balancing for their levels, including regular iterative formal level reviews
⚬ Promotion of game pre and post-release via interviews, game expos and Twitch live streams
⚬ Bug fixing and implementing gameplay
Game Description:
Hitler's hordes are back for more in this spine-chilling shooter from the makers of Sniper Elite 4! Abominable occult enemies, epic weapons and a harrowing new campaign for 1-4 players await in 1940s Europe, as you fight to save humankind from undead Armageddon!

The resistance have defeated Zombie Hitler and cast him into Hell – but the dead rise once again with greater hunger than before!

Continue the alternate history of Zombie Army Trilogy in huge new levels, and uncover a sinister plan that takes the Survivor Brigade across Italy and beyond!

Fight the forces of darkness in corpse-riddled canals, survive a Zombie Zoo, and journey to dark, inexplicable places no person has been before…and lived to tell the tale!
Key Features:
⚬ AWARD-WINNING GUNPLAY
Experience the genre-defining ballistics Rebellion made famous in the Sniper Elite series, and put it to good use against the shambling hordes of the damned!

⚬ UPGRADED KILL CAMS AND DISMEMBERMENT
The X-Ray Kill Camera returns! Watch in gory-ous slow motion as bullets, bombs and more destroy bones and organs in X-ray. Marvel as your bullets tear off a rotten limb or two, and shiver as the dead KEEP COMING!
⚬ DEEP PROGRESSION AND CUSTOMISATION
Build the slayer that suits you as you rank up! Fancy yourself a guardian angel? Take damage for your teammates! Like that turret so much? Why not take it with you? Then kill in style as you unlock new outfits, emotes and taunts!
⚬ KILLER MELEE
When the dead surround you, fight back with enhanced melee combat! Barge through crowds, stomp on heads and dispatch the living dead with fearsome takedown moves!
⚬ EPIC WEAPONRY
Harness the power of fire, lightning, and divine essence to upgrade your guns at workbenches, and create homespun hell raisers! An assault rifle that shoots lightning? A pistol with a flaming Bayonet? Anything goes in humankind's last stand!
⚬ MONSTROUS MULTITUDES
Take on legions of ghoulish grabbers, hulking armoured elites, terrifying shadow demons, explosive suicide generals and a host of other surprises! When you're staring down the fleshy barrel of a ZOMBIE TANK, you'll wish you'd stayed behind the sofa!
⚬ BIGGER, BADDER HORDE MODE
Extend your SLAYcation in the expanded Horde Mode. The longer you survive, the bigger the map gets. How long can you fight back without joining the horde of the LIVING DEAD?
| | |
| --- | --- |
| Role | Lead Level Designer |
| For | Rebellion |
| URL | zombiearmy.com/en |
| Platforms | PlayStation 4, Xbox One, PC, Switch |
| Release Date | February 4th 2020 |